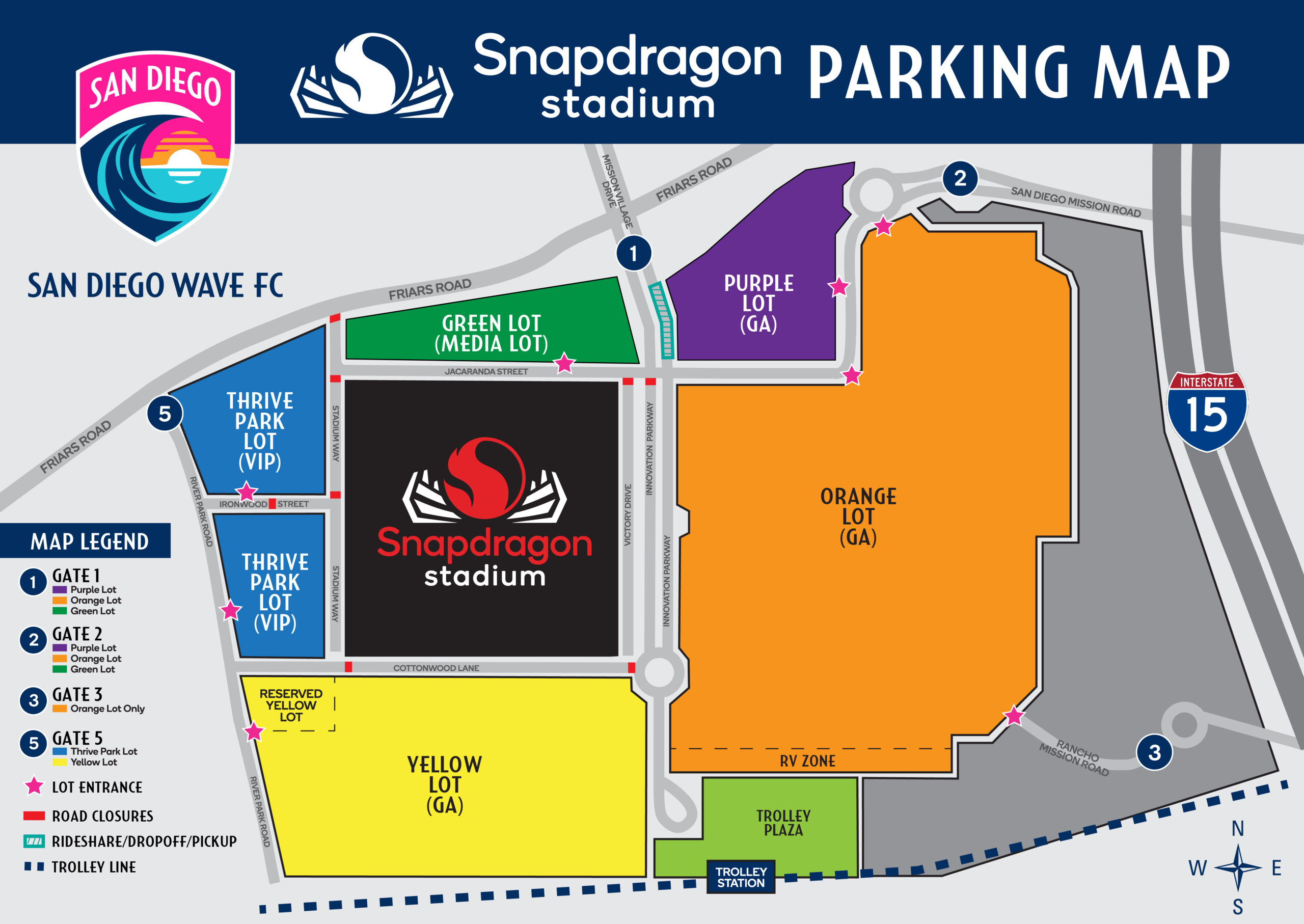 We highly encourage you to purchase parking passes before you arrive.
Limited drive up slots may be available but prices will likely be higher on match day.
Have your parking pass ready for scanning on your mobile device when you arrive.
There is no re-entry if you choose to leave early.
You can find detailed information about tailgating, accessible parking, and more by clicking the Snapdragon Parking button.
Fans can avoid the hassle of traffic and parking by choosing transit. Several Trolley stations offer free 24-hour parking. The Trolley's Green Line provides direct, frequent service to Stadium Station, dropping fans off at the doorstep of Snapdragon.
Family Promotions:
Youth Opportunity Pass: All riders 18 & under are eligible for free transit rides with a Youth PRONTO card or app account! Learn more.
Family Weekends: Every Saturday and Sunday, two children (12 and under) can ride Trolley for free with any paying adult (18 and over, no PRONTO card or app account necessary).
Buying your fare:
Riders are encouraged to use their PRONTO app to travel to the stadium. Riders can add money to their PRONTO card or app and travel for as little as $5 round-trip.
Discounted fares are available for senior riders.
For additional information on taking the Trolley to Snapdragon Stadium, visit sdmts.com/snapdragon
Free Park & Ride Lots:
Fans are encouraged to use MTS' free park & ride lots throughout the Trolley system, then take the Green Line directly to the Stadium. View the full list of Park & Ride lots on the MTS website.
Hazard Center (Green Line – Lower Level only) 1,500 free spots
Old Town Transit Center (Green Line, UC San Diego Blue Line) 412 free spots
El Cajon Transit Center (Green Line) 469 free spots
Morena/Linda Vista (Green Line) 199 free spots
70th Street (Green Line) 125 Free spots
Balboa Avenue (UC San Diego Blue Line transfer to Green Line at Old Town) 227 free spots
Tecolote Road (UC San Diego Blue Line transfer to Green Line at Old Town) 279 free spots
Nobel Drive (UC San Diego Blue Line transfer to Green Line at Old Town) 289 free spots
Bayfront/E Street Station (UC San Diego Blue Line transfer to Green Line at Old Town) 267 free spots